Musik

Music
Hörproben
|
Music samples
Projekte
|
Projects
Jo Single solo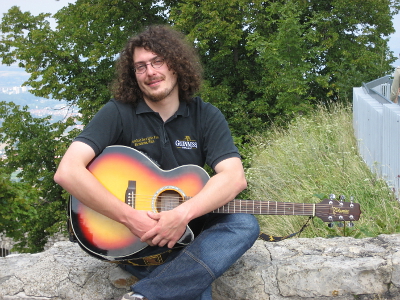 Mit seinem Solo-Programm 'Celtic Tradition' erfüllt sich Sänger und Gitarrist Johannes Single, Mitbegründer der Gruppe McMontos, einen kleinen Traum. Fernab von Pub-Klischee und Mainstream sind seine Lieder eine eher ruhige und melancholische Hommage an die grünen Hügel Irlands und das raue Klima Schottlands, welche mit viel Spielfreude, Wortwitz und der ein oder anderen "wahren" Geschichte vorgetragen wird. Dies spartanisch gepaart mit akustischer Gitarre und rauer Stimme verspricht einen unterhaltsamen Abend der etwas anderen Sorte, bei welchem der Zuhörer tief in die keltische Geschichte eintauchen kann.
With his Solo-Repertoire, a wee dream of Jo Single, Singer/Guitarist and founder of the well-known folk group 'the mcmontos', has come true. His songs are, apart from pub cliché and mainstream, a rather calm and melancholic homage to the green hills of Ireland and the harsh climate of Scotland, paired with a huge joy of playing, wordplay and the one or the other 'true' story. Just with his guitar or maybe with a mandola and his rough voice, Jo creates an atmosphere which invites the audience to take a break while gaining a deep insight into Celtic music and history.
The Hoodie Crows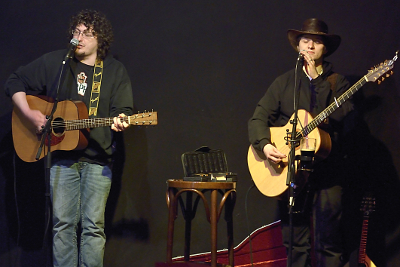 Seit 2012 spielen Sebastian Barwinek (Green Highland, Fanaì) und ich gemeinsame Konzerte. Während diese Abende zu Beginn aus unseren jeweiligen Soloprogrammen bestanden und nur einige ausgewählte Stücke zusammen gespielt wurden, wuchs das gemeinsame Programm nach und nach. Daher beschlossen wir, uns im Frühjahr 2014 zu einem genuinen Duo zusammenzufinden. Unser Name 'The Hoodie Crows' bezieht sich einerseits auf die Nebelkrähe (Hooded Crow, bzw. in einem schottischen Märchen auch Hoodie Crow), die in der keltischen Folklore immer wieder auftaucht, und andererseits auf unsere übliche Bekleidung auf den diversen Bühnen: den Kapuzenpulli (engl: hoodie). Unser Repertoire bewegt sich jenseits von Pub-Klischees, und wir bringen – in Hommage an die wilde Schönheit irischer und schottischer Landschaft – viele ruhigere Stücke zu Gehör. Natürlich kommt auch das flottere Liedgut nicht zu kurz, was, gepaart mit humoristischen und informativen Geschichten, einen kurzweiligen und unterhaltsamen Abend garantiert. Lasst euch von The Hoodie Crows beflügeln zu einer Reise in vergangene Zeiten, immer wieder mit scharfem Blick aus der Vogelperspektive auf die heutige Zeit und ihre Absonderlichkeiten!
Sebastian Barwinek (Green Highland, Fanaì) and me have been doing gigs together since 2012. While our early shows usually consisted of our two seperate solo-programmes, our repertoire as a duo has gradually grown. Thus, it was a logical step to become a genuine duo in spring 2014. Our name 'The Hoodie Crows' is, as you will probably know, both a reference to the hooded crow (or hoodie crow as it is known in a famous Scottish fairy-tale) and to the garb we wear on stage (i.e. the hoodie). The Hoodie Crows bring you songs from the Celtic tradition inspired by the rugged beauty of both Scotland and Ireland. Even though we love to play those songs that do not fit in the 'pub song stereotype', raucuous ballads are just as likely to be heard at our gigs as those that hit a quieter note. Paired with humorous and interesting stories, a fun evening is guaranteed. Let The Hoodie Crows take you on wings of song and transport you to times past, always keeping a sharp eye on modern days and their peculiarities.
The McMontos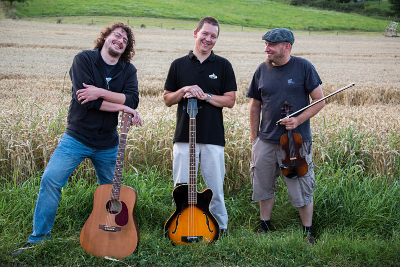 'The McMontos' wurden 2002 von Daniel Fraser und Johannes gegründet. Im Laufe der Jahre hat sich die Truppe in die Herzen des Publikums gespielt und war u.a. auf renommierten Festivals in Deutschland und im angrenzenden Ausland unterwegs (u.a. Folk im Schlosshof Bad Rappenau 2012, Irish Festival ZAK Jona, Schweiz, Altburgfestival Bundenbach 2006 und 2010).
Mehr über Jos seit 2002 bestehende Folkband finden Sie auf der McMontos-Webseite.
'The McMontos' were founded by Daniel Fraser and Johannes back in 2002. Since then the group has been touring continuously and successfully and played many festivals in Germany and abroad.
Read more about Jo's long-established folk group at the McMontos website.
Videos
|
Videos
Noch mehr Videos gibt es auf meinem YouTube-Channel.
You can find more videos on my YouTube channel.